Flavourful, filling, and with plenty of influences and fusions, Slovakian food has delights in store for both the hardcore and casual foodie. Slovakia is a beautiful, intriguing country, with a cuisine that has very much gone under the radar internationally. If you're planning to travel to Slovakia, or you're simply intrigued by its diverse range of rich and hearty dishes, you've come to the right place.
Join us on a culinary journey of awe and splendor, as a local writer takes a closer look at 22 traditional Slovakian foods and dishes with us. All of them are unique in their own little way, and definitely worth trying when you visit Slovakia.
Introduction to Slovakian Food
Slovakia is located in Central Europe, surrounded by Austria, Hungary, Ukraine, Poland, and the Czech Republic. Due to its location and history, Slovak cuisine is heavily influenced by the dishes of these neighboring countries, especially Austria and Hungary. Traditional Slovak dishes are largely simple, comforting, filling, and homely.
Common foods include pork, wheat, poultry, wheat, cabbage, potatoes, sheep's and cow's cheese, garlic, and onions, among many others. These gorgeous flavors combine in a variety of ways to create the Slovak cuisine. Slovakian food has largely gone under the radar internationally. This is a shame, as Slovakian cuisine is some of the most wholesome and hearty food in all of Europe.
Culturally, Slovakians eat three main meals a day, with two snacks squeezed in between – desiata, a late morning elevenses, and an afternoon snack known as olovrant. I think it's fair to say that, when it comes to food, Slovakians run like a Japanese train timetable! Now that we have some context, let's take a closer look at 22 of the most delicious, traditional Slovakian foods that you have to try when you visit this beautiful country.
Slovakian Foods You Simply Must Try
1 – Bryndzové Halušky
This hearty meal is the national dish of Slovakia. It is right up there as one of the most important of the country's foods. Bryndzové halušky consists of a wholesome combination of potato dumplings with roasted bacon and sheep's cheese. Slovaks use a high-quality, soft, and creamy locally-produced sheep's cheese, bryndza, in this dish. Bryndza is one of Slovakia's most beloved cheeses, and it is very much a source of national pride.
Once the dumplings are filled with cheese, the dish is topped with sour cream, fried onion, spring onion, and crispy bacon pieces. The savory notes from the sour cream, combined with the acidity of the onions, make this a dish with a sharp and delicious flavor.
The doughy version of this dish is Bryndzové pirohy. It consists of pierogi-style dumplings made of dough, filled with the traditional Slovak sheep's cheese. The latter version pairs delightfully well with a glass of sour sheep's milk, žinčica, which has a tangy, fermented taste. Strapačky is another version that uses stewed sauerkraut instead of sheep's cheese.
2 – Kapustnica
Kapustnica is a delicious cabbage or sauerkraut soup. It is one of the most warming and soothing Slovakian dishes. The soup is a hearty mixture of sauerkraut, dried mushrooms, sliced sausage, and onions. It is served with a dollop of sour cream. This dish is a sumptuous combination of nutmeg, smoked sausage, spices like paprika, garlic, and baked bread. It is sure to get your taste buds tingling.
Amazingly, you can often find the soup served in a bowl made of bread. If you're ever in the country, you have to try it! The bread bowl absorbs the juicy flavors, while the outside crust remains crunchy. Kapustnica is one of the most recognizable Slovak foods, and it is an important dish in Slovakian cuisine. It is eaten as an appetizer, but it is also a part of the traditional Christmas dinner.
3 – Fazuľová Polievka
Fazuľová Polievka is a rich and creamy sour bean soup. It has a base of fazula beans, a spotted, colorful bean native to Slovakia. This traditional Slovak soup has a deep, smokey taste. This is due to the combination of softened fazula beans and the use of sliced smoked bacon in the recipe. Sour cream, milk, flour, potato, and vinegar help form a thick, creamy base, while garlic, peppercorns, and bay leaves inject a little spice and sour notes into the taste.
Fazuľová Polievka is usually served with butter and crusty bread. It can be eaten either as a starter or as a main course. It's true comfort in a bowl, that's for sure.
4 – Prívarok
Prívarok is a hearty traditional Slovakian dish. This legume and vegetable stew can have different tastes, depending on the ingredients used. Commonly, these are cabbage, beans, lentils, cauliflower, spinach, potatoes, peas, or winter squash. The soup thickened with flour and whipping cream. Seasonings included in the stew are salt, pepper, and dill. It is usually served with a fried egg and diced potatoes, or bread, but you can also combine it with smoked meat and sausage for extra protein.
As a Slovakian food, it has diverse flavors. It is rich, soothing, and very tasty.
5 – Segedin Goulash
Segedin goulash is the Slovak version of Hungarian goulash. It is the perfect combination of sour and savory, and very much a beloved comfort food in Slovakia. Segedin goulash consists of pork shoulder chunks stewed with sauerkraut and thickened with heavy cream. This gives the dish makes a thick, creamy texture, and softer, milder taste.
Sometimes sour cream is used for a tangier taste. The sauerkraut used in the goulash is heavily seasoned with paprika. This dish is traditionally served with dumplings, but you can also find it served with rice.
6 – Mäsové Guľky
This hearty Slovak entrée is a dish of meatballs and potatoes. Mäsové guľky is simple, filling, and inspired by many European meatball dishes. The meat is rolled in a dough of potatoes, served over steamed cabbage. This Slovak specialty is topped with spring onion and roasted onion. It is a filling and satisfying Slovakian food.
7 – Plnená Paprika
Plnená Paprika is a traditional Slovakian food consisting of stuffed peppers, originating from Hungary. It is a popular dish in Slovakia, eaten on a regular basis. The fillings to stuff the peppers with is commonly cooked rice mixed with ground beef in tomato sauce. The peppers are then filled with this mixture and baked.
Locals like to make meatballs with any leftover filling and combine them with the stuffed peppers. Plnená paprika are usually served with potatoes, dumplings, or rice.
8 – Zemiakové Placky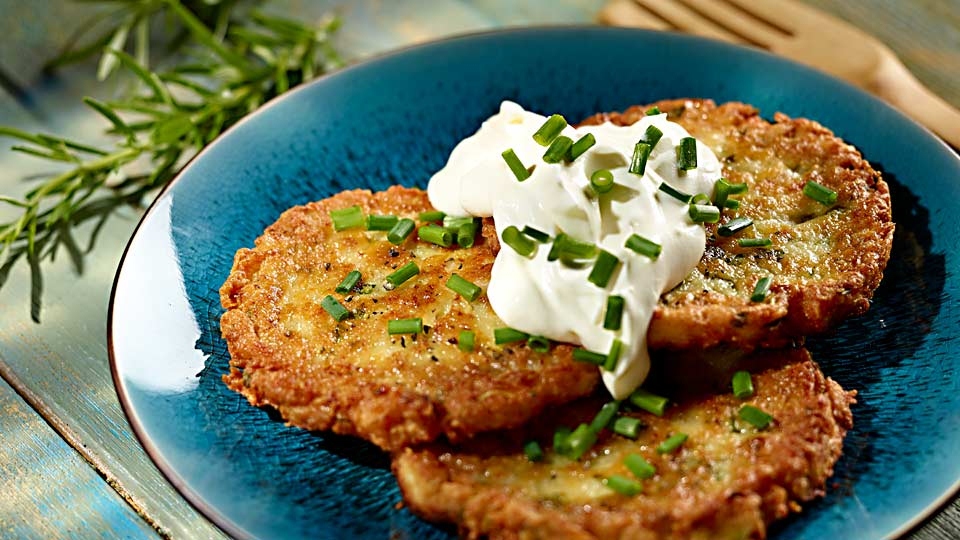 Zemiakové placky are pancakes made of potatoes. They typically served as an afternoon snack, especially to school children in Slovakia. They are excellent for dipping in soup or as a side dish to various main courses.
Potato pancakes are a wildly popular food in Slovakia. They are made with grated potato, flour, and egg, then fried in high-quality oil and garlic. The pancakes are gooey on the inside but crunchy on the outside. Various spices are used, so expect plenty of heat and kick with each savory bite.
Zemiakové placky are popularly served warm with kefir, sour cream, or soured milk. They make for excellent Slovakian food, served in kitchens and restaurants across the country.
9 – Langoš
Langoš is essentially the Slovak take on pizza. It is a popular street food in Slovakia and other countries such as the Czech Republic, Austria, Croatia, Serbia, and Romania. Langoš is a flatbread that is lightly fried. The crust is thin and crispy, and it can be folded and eaten like a taco or pulled apart.
The most common toppings for this hearty Slovakian dish are cheese, tomato ketchup, garlic sauce, and tartar sauce. While that may sound like a lot of condiments, the sauce is in fact a perfect blend of the sweetness of tomato, the strong taste of garlic, and the creamy tang of tartar sauce.
You can also find this popular food with chocolate and sour cream toppings. Langoš is another excellent example of a traditional Slovakian food you'll have plenty of opportunities to try from street vendors and small kitchens.